Cultivate your leadership skills and expand your networks at ASA's 2020 Leadership Institute in Atlanta, March 23-27
Registration for the 2020 ASA Leadership Institute will close February 28. Register here.
"Immersing myself in this training helped me to be able to focus and reflect on how I can translate the information to my work. It also helped me to envision possible opportunities in the field of aging."
Jessica Westropp, MA, Workforce Development Manager
WIRE-Net
The ASA Leadership Institute is a five-day leadership development intensive that offers self-assessments of communication and leadership styles, presentations by recognized leaders in the field of aging, facilitated dialogue, networking opportunities, leadership literature and online learning. Program components are carefully designed to prepare the next generation of leaders in the field of aging.  
Understanding the context of a leaders' work is vital. This program focuses on understanding and embracing cultural differences in a way that respects aging adults. Graduates will leave the Leadership Institute with a broad exposure to key influencers and with multiple opportunities to stay connected with other bright professionals who aspire to be their best. Find out more about the sessions and schedule here.
Successful Participants
This unique leadership development opportunity is open to all professionals in the field of aging who have at least three years' experience and a strong interest in building personal leadership skills and capabilities, including effectiveness in current or future professional positions. Once successfully enrolled, participants will complete two online individualized assessment tools based on the Everything DiSC® Management and pre-reading assignments, and will and participate in an online web seminar.
Participants will also learn about ASA member educational and networking opportunities across various platforms (website, web seminar, podcast, online courses, and social media). Orientation and all other activities will be conducted onsite at the 2020 Aging in America Conference. Full participation is required to successfully complete the program and earn the Leadership Institute Certificate of Completion.
"I have developed what I anticipate to be lasting professional relationships with other leaders in the field of aging. In addition learning skills that can positively impact my ability to clearly recognize and therefore communicate with others of different communication styles."
Sheila M Dessau MSSA, LISW-S, Director
Community Services, Supports & MCO Programs,
Western Reserve Area Agency on Aging
Benefits to Attendees and Their Organizations
An increased self-awareness of your leadership style, a keen understanding of how your style can complement or clash with others' styles, and an understanding of how to adjust to fit the needs of the people you manage.
Mastery of approaches to working effectively in multicultural and ethnically diverse organizations and communities to influence positive change.
Substantive insights into the leadership styles and experiences of visionaries, policy makers, change agents and influencers who have had significant impact in the aging field—a professional network of colleagues.
Career advancement potential and an ASA Leadership Institute Program Certificate for each participant who successfully completes this program.
"ASA Leadership Institute has encouraged me to continue to reach out to non-traditional partners to provide eldercare education in the community. It is MY job to shift their mindset, so they can see the relevance."
Rev. Terri White, Elder Care Educator
A Labor of Love ElderCare
Program Objectives
Identify major shifts in the field of aging, including the impact of changing demographics, culture, policy, technological and other factors on leaders and diverse communities;
Describe the importance of leading a multicultural, inclusive team of professionals who reflect diverse views and opinions;
Learn from successful leaders who have worked across boundaries, silos, and have surmounted barriers to solve small and big issues, creating sustained improvement;
Identify resources to serve the growing cohort of diverse older people facing a spectrum of health, racial, economic and other disparities;
Build a more expansive and robust professional peer network with which you will share resources, ideas, helpful information in future years.
Earn up to 4.5 CE credits for participating in ASA's Diversity Summit and General Session. 
Enrollment Fees:
ASA Member rate: $1,295
Non-member rate: $1,495 (includes one-year ASA membership)
REGISTRATION
Registration for the 2020 ASA Leadership Institute is now open. For more information, email Christine Arturo.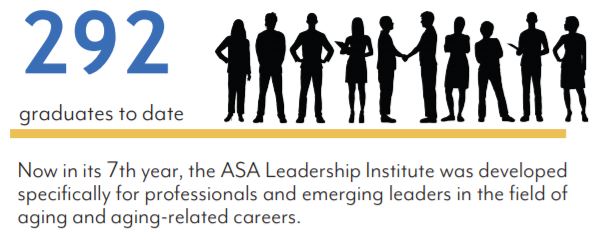 Your fee to attend the ASA Leadership Institute includes registration for the Aging in America Conference and CE credits for attending ASA's Diversity Summit and General Session. Please direct CE questions to Patricia Morazan.
Please note: Do not register for any other events if you choose to participate in ASA's Leadership Institute If you are a presenter at the conference, please contact Christine Arturo. Due to limited capacity, the fee for this program is nonrefundable.
---
This program relies on the support of foundations and corporations to help cultivate the next generation of leaders in aging.
Generous support for the 2020 Leadership Institute provided by CVS Health.
​
​2020 foundation support has been provided by the Metta Fund and the Harry and Jeanette Weinberg Foundation.
 

​

​
Previous foundation support has been provided by the Blandin Foundation, the Health Foundation of Western & Central New York, the Missouri Foundation for Health and the Cleveland Foundation, among others.
If your organization would like information on supporting the Leadership Institute, contact Carole Anderson, ASA Vice President of Education, 415-974-9632.