With a major commitment to diversity and inclusion, ASA's members represent the diverse array of professionals in the field of aging working along the continuum of care and service and who are concerned with the physical, emotional, social, economic and spiritual well-being of older adults.

See what ASA membership makes possible.

 

Join ASA Now!
Join ASA today to:
Become part of a vibrant multidisciplinary community of professionals in aging and allied professions.

Gain skills and knowledge to be more effective in your work with older adults.

Connect with and learn from professionals who can provide you with new insights and solutions.

Empower the leader within you to guide your organization to success.
ASA Member Benefits
Education and Professional Development
Aging in America Conference
ASA members enjoy a 30% savings on their registration for ASA's annual conference. Aging in America, the largest multidisciplinary conference covering a wide array of topics on aging, is a premier source of information, knowledge and networking opportunities at which you can forge connections that will last a lifetime. 
Web Seminars
Offered free to ASA members, web seminars are a convenient way to get training and education on key topics affecting your work with older adults, right at your desk. Web seminars are offered live and on-demand throughout the year, so they easily fit into your busy schedule. ASA members are eligible to earn CEUs for attending any ASA web seminar at no charge! 
ASA/USC Online Gerontology Courses
The University of Southern California Leonard Davis School of Gerontology and ASA have joined forces to offer opportunities—exclusively available to ASA members—to earn a certificate of completion from USC in a convenient and flexible online format. ASA is also able to offer CEUs from select accreditation providers to individuals who successfully complete a course. Courses include: Fundamentals of Gerontology, Managing Health and Chronic Conditions in Older Adults, and two courses on Elder Mistreatment.
ASA Mentor Advantage
This online platform is designed to connect experienced professionals with emerging professionals  in order to build meaningful and rewarding mentor/mentee relationships.
ASA Publications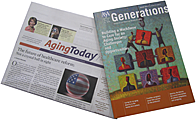 Generations
Each issue of ASA's quarterly journal is devoted to a single topic in aging and features nationally recognized authors and guest editors. ASA members can enjoy easy online access to current and archived issues of Generations at any time. 
Aging Today
Our bimonthly newspaper covers trends, opinion and advances in practice, policy and research nationwide, and keeps you up to date with ASA's programs.
AgeBlog
ASA's blog is a direct connection to news briefs, articles, policy and research developments and member news. All members are invited to submit articles to AgeBlog. 
ASA Update
Our weekly e-newsletter keeps members current on all news and membership benefits, and highlights articles and events.
Member Resources
Continuing Education
CEUs are available for our conference and most of our webinars at no additional charge.
www.asaging.org
You'll find essential program information, research, career tools, expert advice and more on ASA's website. Connect with colleagues by joining an online discussion, or use our searchable membership directory to find local and national contacts.
Career Advantage
This online resource connects job seekers and organizations recruiting qualified professionals in the field of aging.
Regional Networking Events
These events provide an informal opportunity to meet and network with colleagues.
Awards
Each year ASA honors individuals and organizations for their contributions to ASA, to the field of aging and to older adults.
Diversity, Inclusion and Cultural Competence
ASA's network includes experts on serving diverse populations of elders. Diversity includes ethnicity, culture, language, religion, sexual orientation, geography, income and ability.
Member Discounts
10% discount on SuperShuttle.com and ExecuCar.com reservations when booked online.
Click here to login if necessary and retrieve your ASA member discount code.
Constituent Groups
ASA Members can target content most relevent to them by joining one or more constituent group(s) and connecting with professionals with shared specific interests. All of the following constituent groups are available and included in your membership dues:
We also offer a Students and Emerging Professionals Network where students and professionals new to field of aging can network and share ideas and resources that will help them along their blossoming career paths.
Join Us
| | |
| --- | --- |
| $268 | Professional—for all professionals, consultants and others who serve older adults. Join Now |
| $179 | Emerging—for professionals beginning their careers in aging, offered for a maximum of two successive years. Join Now |
| $121 | Retired—for those aged 65 and older and retired from full-time work. Join Now |
| $81 | Student—for graduate or undergraduate students and must include documentation of student  status and expected graduation date (e.g. Letter from admissions or registrar at institution). Join Now |
| $685 | Organizational Membership Type 1—full membership benefits for three staff members, saving $119. Join Now |
| $1,006 | Organizational Membership Type 2—full membership benefits for five staff members, saving $334. Join Now |
| $1,411 | Organizational Membership Type 3—full membership benefits for eight staff members, saving $733. Join Now |
| $1,720 | Organizational Membership Type 4—full membership benefits for eleven staff members, saving $1,1228. Join Now |
| $2,087 | Organizational Membership Type 5—full membership benefits for sixteen staff members, saving $2,201. Join Now |
| $232 | Organizational Affiliate—for unlimited number of additional staff of member organization, saving $36 off Professional rate. Write info@asaging.org for details. |